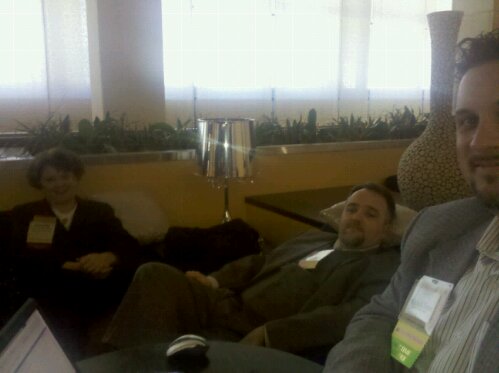 I was very honored when I was invited by Brenda & Eric Standlee, to come with them to the IBAT convention in Ft. Worth, Tx.  The convention is for bankers and businesses that work closely with banks.  The few days that we spent networking with these individuals was terrific.
It was interesting to hear about some of the struggles that "Community" banks are dealing with.  Most of these banks are looking for ways to increase their profit margin, during these "slow" times.  I sat in on presentations that were anything from how to price loans, to whether banks should or should not allow social media available to their staff.
First off, those of you that know me, know that I am an advocate for social media.  From a networking & marketing standpoint, social media can be VERY powerful for a business.  In addition, I would like to add that the threat that social media brings (in the I.T. realm) is truly insignificant… if a company has taken measures to protect their infrastructure in the first place.
The other thing that I noticed as that the two industries (Factoring & Merchant Services) that we represent (Brenda & Eric represent American Prudential Capital and I represent Element Payment Services) were nowhere to be found through this convention.  There was no talk about how partnering with a factoring company or a credit card processing company can be highly profitable for a bank.  I look forward to sharing these possibilities with banks, and the upcoming sector of Credit Unions, that are open to these partnerships.  The bottom line is that our goal is to help banks increase their non-interest revenue.  Who wouldn't want to do that… with little to no risk on their part, right?
A couple of social things that happened while at the event were the "Singer Songwriters Performance" and the "Auction."  I was amazed to find out was behind some of the most popular country songs of the past couple decades.  These guys were incredible.  I was absolutely blown away by their talent.  If I can find my notes, I might even post their names and link to their websites.  As for the auction, all I have to say is…. "I didn't spend too much money, honey!"  🙂
-Mitchell From-
http://gist.com/mitchellfrom
http://facebook.com/mitchellfrom.fanpage