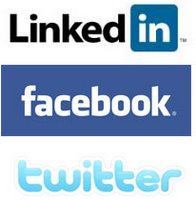 Most people these days, young or old, can be found using "Social Media."  There are many social media platforms for a myriad of uses, so we will cover a few that are best suited to the business person who wants to take their networking, "Online."
The four most common social media platforms that people use to network, online, would be Google+, LinkedIn, Facebook & Twitter.  Mitchell From shares with business people the differences in these four services.  Within Facebook, you can only really communicate with people that have already become a "friend" with.  Conversely, you don't have to be connected to someone, prior to following everything that they are tweeting on Twitter.  Linkedin is a blend of these services.  It allows you to connect with individuals, but the power is through the networks of others.  LinkedIn also has a status feed that is similar to the tweets of Twitter. Google+ is also a MUST since Google is going to give it special attention, so get your profile built out completely and get active!
Just as with "In-Person" networking, Mitchell From highly recommends having a plan to your networking and then work that plan.  Don't be overwhelmed with all the events you could visit and miss the most important thing… creating "Know, Like & Trust" through these new relationships.
Don't forget to look into whether your smartphone has an application for these platforms.  When you are capable of having some of these applications on your smartphone, you become a much more connected individual.  If you start to think about how these social media platforms can tie into the growth of your business, there will be no reason why you wouldn't want to go out and get a smartphone.