Networking Events With Food…
This blog post goes out in the month of December… when I know a lot of you are going to be going to networking events with food all around you.  Whether you're at a Chamber of Commerce Luncheon or business after hours, you're bound to have finger foods there.  If you're going to some mixer of sorts… you'll have finger foods there too.  Trust me, there will be some sort of tasty treat that you will want to stick in  your mouth.  Here's where the nugget comes in.  Whatever you do, Don't eat things with your right hand.  Time after Time after Time again, I see people carrying a small plate of finger foods in their left hand while they push things into their mouth with their right hand.  What happens next?  You got it!  They continue by licking each and every one of their fingers.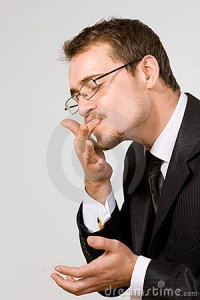 Now we've all been here at some point.  However, what I want you to do, moving forward, is to be mindful of where you're at and what purpose you have for being there.  Think of it this way:  Would you like to go up and shake someone's hand after seeing them lick their fingers?  No.  So, with that in mind… we shouldn't be doing it either.  Your purpose is to meet people and create a connection with them.  You want to get to know them and have them get to know you.  You're not going to accomplish that if everyone runs from you like the plague.
I recommend that, if you have to eat, that you use your left hand for shoveling.   This way, you will not be turning anyone away with the dirty or recently licked, right hand.
Good Luck this Holiday.  Merry Christmas and have a Happy New Year.  Keep your fingers out of your mouth!  **Smile**
Keep on Networking,
Mitchell From
http://gist.com/mitchellfrom