What are you doing to grow your LinkedIn Network?
Have you completed your profile… completely? Have you made it easy for people to connect with you?  Have you planned a way to keep your profile from becoming stale?
My brief recommendations are simple: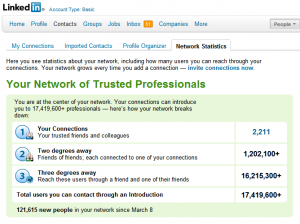 1.  Complete you profile 100%.  Make sure that you use terms, phrases and/or keywords that are important to you or to the people that will be searching for things that you do, or have done.  If you do not complete your profile 100%, then what message are you sending to a prospective connection… or even worse, a possible client?
2.  When you're done with your profile, go back and edit your name and headline. When someone is searching for something specific and you finally come up in their results, you want to make it easy for them to connect with you.  Put your email address and the term LION in your headline.  A LION is a LinkedIn Open Networker.  You are telling the world that you will accept all invites that you receive.  The reason why you put your email address there, is because now that they know that you are an Open Networker, they will feel comfortable using your email address provided when sending you a "connection request."
3.  You should also be intentional with your invites.  Find other LION groups online (i.e. Dallas Blue) that are Open Networkers and invite those well connected individuals.  You are only given a few thousand invites, so don't blow them.  You'll be upset if you meet a super-connector (10's of thousands of 1st degree connections) and cannot invite him.  I'll guarantee you that he's out of invites too.  You're now up a creek without a paddle.  So, the lesson here is… don't do what LinkedIn says and hook every one of your email accounts to LinkedIn and try and invite all of those people.  You're already connected to those folks in other ways.  Connect to people that have thousands of 1st degree connections, not people with 1-10 connections.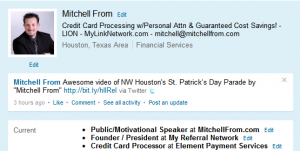 4.  Lastly, you should keep your profile "appearing" current.  Even if you don't go to your profile but once a week, month or even every six months, you should have a way to make it look like you're active.  If  someone comes across your profile but the status says, "Last updated 485 days ago," do you think that person is going to reach out to you?  They will most likely think that you've moved on to other things and have abandoned your profile.  I fix this by linking my Twitter Tweets to my LinkedIn status.  This way, as I send out tweets from my smartphone, twitter website or from my blog (when I release new posts), they will all update my LinkedIn status.  This way onlookers get the feel that everything is current with my profile because they can see that I'm still around.
You will find that there is great value in a wide, and deep, network of professional connections.  Have a plan and work it!  Good Luck!
-Mitchell From-
Http://gist.com/mitchellfrom