As we attend networking opportunities, we find that most of them revolve around food and drink.  It is true that food brings people together.  Just think back to the last few social gatherings at your house and ask yourself, where does everyone congregate?  In the kitchen!  We are so accustomed and comfortable with socializing around food and with food, that we have allowed some bad habits to creep in.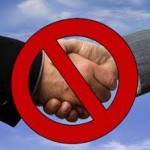 Here's the scenario:  You're at a networking event that has some wonderful hors d'oeuvres that look mighty tasty.  Since you're not in any big conversation, and you're feeling a little hungry, you go and grab a plate of those hot-wings and other tasty treats.  As a right handed person (which most of us are), you hold the plate in your left hand and proceed to chow down, using your right hand to grab the food and shovel it in your mouth. Towards the end of the evening, you realize that nobody has really come around and struck up any conversation with you and you think to yourself… what is wrong with these unsociable people?
What really happened is that you isolated yourself from the room.  Anyone that was paying any attention to you at all, noticed how you were eating your food.  Nobody wants to walk up to someone who is eating with their right hand and introduce themselves.  Why?  Because they know that the introduction leads to a handshake and they don't want to shake your hand that has been all over your food and in your mouth.  There are frequent times when I see someone doing this and they go even farther and lick each and every one of their fingers… to get them, clean.  This individual will find the evening to be one where it is hard to connect with people.  Not only will people not want to approach you, but they will not want to bring someone over and introduce them to you for the same reasons.  Not only are they personally uncomfortable with your habits, but they are concerned for the person that they want to introduce to you.
The bottom line… carry your plate of food in your right hand and eat with your left.  Just remember this:  Protect your right hand, so people feel that you are consciously being considerate of them.  If you're going to network, network with intention and purpose and you will reap the rewards of standing out in a crowd… in a good way.
~Mitchell From