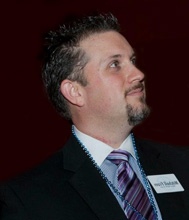 Mitchell From is a husband and father of two beautiful girls, teaches Sunday school at Church and is on the board of non-profit organizations.  In business, Mitchell From has worked for many years in corporate America before truly embracing business ownership.  Mr. From's last corporate position was as the Director of Information Technology for an international oil and gas company.  He left Corporate America to start his own IT services firm, and has since owned multiple businesses.
Mitchell From was introduced to networking while building his first company and as he says, he did it all wrong.  After joining a mix of networking groups, he was still not able to generate referrals from networking.  Between the education he attained by being a Dale Carnegie graduate, to books, CD's, seminars and the school of hard knocks, he learned and developed the skills he was truly seeking and needed, to be successful with networking.
Mitchell From practices Servant Leadership in his business as well as his personal life.  As he was building his current business of Credit Card Processing, he began developing a system that continues to deliver over 90% of his clients through networking and referrals.  Mr. From is also now an Internet radio talk show host on The Everything Talk Radio Network and the president & founder of a networking organization, My Referral Network, where he teaches what he learned, to be successful in networking.  Through his desire to help others, he has also become a public speaker & mentor.  As a public speaker, Mitchell enjoys speaking to sales teams, networking organizations and groups of people that are looking to better themselves.