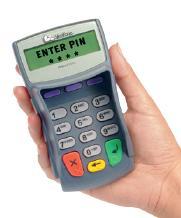 There are times, when I'm speaking with a business owner, and they ask me that very question… Why should I use a Pin-Pad?  Some business owners are told that they should absolutely have one and that it will save them tons of money and others tell me that they are told that it's just a way for us credit card processors, to sell more equipment.  Well here's the skinny.
First off, I need to explain what I mean by "using a Pin-Pad."  When you go to a store and you hand the clerk your debit/check card and they swipe it through the machine, they will usually hand the card back to you and ask you to enter your 4 digit pin for them.  At this time, they point to, or hand you… the pin-pad.  It's the little device with the numbers 0-9 that's usually attached to the credit card terminal by means of a coiled cord.
The real question is, when should a business owner (merchant) get (and use) one?  The simple & safe answer is, if your average sales ticket is over  $50.00, then I'd say you should be using a pin-pad as much as possible.  If you are a type of business that has lots of tickets that are low dollar amounts,  then this is not for you.  Why?
If you swipe a debit/check card and run it through as "credit," you might be paying something like 1.50% and $.25 a transaction.  Whereas, if you were using a pin-pad on that same debit/check card, you could be paying as low as 0.75% with a transaction fee.  The problem is that although the rate is lower, sometimes the hard cost of the transaction fee (being $.35-50 a transaction) makes the overall cost to the merchant, higher.  If you do the math, a transaction for a piece of bubble gum for $1.99 will cost the merchant more as a pin based debit transaction than if he were to swipe it as a credit card.  However, a transaction for a new suit for $599.00 will save the merchant a significant amount of money to run the debit/check card through with a pin-pad, instead of just swiping it as a credit card.
Now that you know this… how do you capture more of your business with pin-based transactions?  Contact me and I'd be happy to give you the scoop.
Contact me through any phone, email or social media platform on http://www.gist.com/mitchellfrom